BY SOURCE: JUST DRINKS
-
SOH SPIRITS' YUZURI YUZU LIQUEUR
CATEGORY – SPIRITS, LIQUEUR, YUZU FRUIT-BASED, 30% ABV
AVAILABLE – FROM THIS WEEK
LOCATION – US, ONLINE THROUGH HI-TIME
WINE CELLARS, OFF-PREMISE IN CALIFORNIA
PRICE – SRP OF US $45 PER 75CL BOTTLE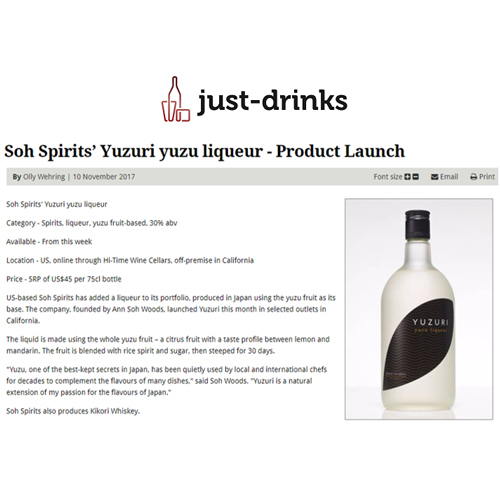 US-BASED SOH SPIRITS HAS ADDED A LIQUEUR TO ITS PORTFOLIO, PRODUCED IN JAPAN USING THE YUZU FRUIT AS ITS BASE. THE COMPANY, FOUNDED BY ANN SOH WOODS, LAUNCHED YUZURI THIS MONTH IN SELECTED OUTLETS IN CALIFORNIA.
THE LIQUID IS MADE USING THE WHOLE YUZU FRUIT – A CITRUS FRUIT WITH A TASTE PROFILE BETWEEN LEMON AND MANDARIN. THE FRUIT IS BLENDED WITH RICE SPIRIT AND SUGAR.
"YUZU, ONE OF THE BEST-KEPT SECRETS IN JAPAN, HAS BEEN QUIETLY USED BY LOCAL AND INTERNATIONAL CHEFS FOR DECADES TO COMPLEMENT THE FLAVOURS OF MANY DISHES," SAID SOH WOODS. "YUZURI IS A NATURAL EXTENSION OF MY PASSION FOR THE FLAVOURS OF JAPAN."
SOH SPIRITS ALSO PRODUCES KIKORI WHISKEY.