BY SOURCE: TASTING TABLE
-
WHISKEY AND PEPPERMINT SCHNAPPS MAY BE THE RULERS OF THE LIQUOR CABINET COME THE HOLIDAY SEASON, BUT THERE'S A NEW BOOZE ON THE MARKET YOU SHOULD BE USING AT YOUR NEXT PARTY.
SOH SPIRITS, THE DISTILLERY THAT SHOOK UP THE INDUSTRY WHEN IT FIRST RELEASED A JAPANESE WHISKY
MADE COMPLETELY FROM RICE
, JUST RELEASED ITS NEWEST CREATION, YUZURI. YUZU IS A RARE CITRUS THAT FOUNDER ANN SOH WOODS DESCRIBES AS "THE LOVE CHILD OF LEMON AND MANDARIN WITH TRACES OF GRAPEFRUIT."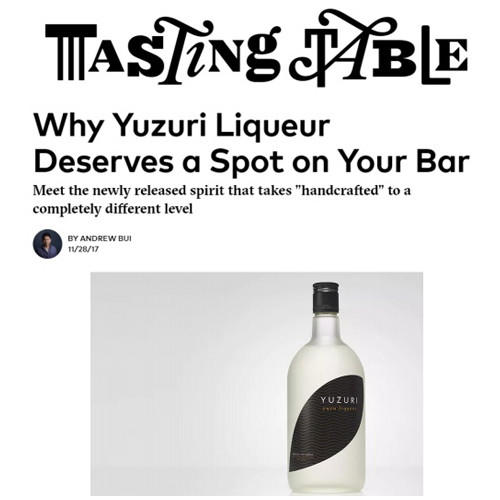 THE FRUIT IS THEN DISTILLED WITH LOCAL GROUNDWATER AND LOCALLY GROWN RICE FROM JAPAN'S KUMAMOTO PREFECTURE AND A MIX OF SUGAR FROM BEETS AND AUSTRALIAN SUGARCANE. THE PROCESS RESULTS IN A FLORAL, 60-PROOF LIQUEUR PERFECT FOR SIPPING STRAIGHT FROM THE BOTTLE OR AS AN ADDITION TO YOUR COCKTAIL WHEN YOU NEED A UNIQUELY SWEET YET ACIDIC FRAGRANCE.
YOU CAN BUY THE BOTTLE NOW
FOR $45 ONLINE
, JUST IN TIME FOR EVERYONE ON YOUR GIFT LIST—YOURSELF INCLUDED.